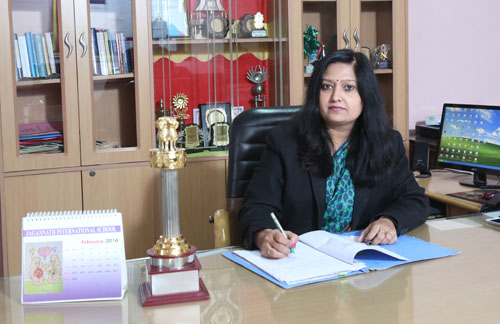 "Education according to Swami Vivekanand is not just gathering information which may remain undigested throughout life, but to have life building, man making, character building, assimilation of fine ideas and making them our life and character."
A well designed and holistic curriculum at JIS offers maximum learning experience and brings down the unproductive time spells in class room. It also prepares students to explore their own academic interests. A coherent curriculum is vital for the development of the students thinking facilities.
I firmly believe that emphasis of the school should be on each child to excel in his competence in academics, in societal skills, in sports, in music and most importantly in his enjoyment of life. An institution is known by its traditions and values. The vision of the school keeps it growing and the quality of students it has is the indicator of its progress.
Another lesson which needs to be learnt is that we must be open to change without compromising on our values. Virtues like honesty, integrity, consideration for others and humanity have survived for generations. The values define a person more than his/her achievements.
At JIS, we believe that a strong character foundation will ensure a safe nurturing, positive learning environment for all its students. The opportunities provided by way of co- curricular and curricular activities are immense.
Ms. Indu Sharma